Remediation for the Sensitized - with CIRS or health affects aggravated by environmental conditions
Whole home and contents remediation, cleaning, and decontamination
Advanced testing procedures to assure successful decontamination
BioClean Remediation & Decontamination multi-step process:
Detailed inspection & plan
Source removal – removal of damaged building materials and visible mold following IICRC S520 protocols.
HVAC / Air Duct cleaning & sanitization
Whole Home "Specialized" Cleaning
Contents cleaning and disinfection
Proprietary "whole home" Clo2 gas fumigation for biological contamination
Attic, crawlspace, and garage sanitization
Long lasting surface protection application
Post remediation surface and air testing confirmation
Proprietary accessories for continuous protection after remediation
The medical industry is finding more people with serious health problems directly related to water damaged buildings. Mold, bacteria, and their secondary metabolites, can be created when a water leak or excessive moisture occurs in a building. Approximately 50% of homes and 85% of commercial buildings have had at least one water or mold occurrence. There are differing degrees of mold contamination and everyone's body will not react in the same way to these toxins and inflammagens. Some people will not feel any affects from bio-contamination exposure. Some will feel a dramatic affect from small amounts. It's been discovered that close to 20% of our population cannot properly process mold or environmental toxins that enter their body. In some cases, environmental mold and toxins can cause CIRS which causes dysfunction to major body systems. In most cases, sensitized people need to live in a less toxic environment than others. That is why the BioClean Systems were created. We have developed our processes to identify, eliminate, and neutralizes the toxins, VOC's, inflammagens, and odors that can be created in a water damaged building.
Currently, the remediation industry has mostly been focused on removing and cleaning the visible mold contamination and not so concerned about the rest of the home and the toxins that most certainly can spread throughout a building. For most remediation companies, mycotoxins, endotoxins, and spore neutralization are not even part of their protocols. For some people this approach is good enough. For the sensitized individual, doctors are finding the normal standard of remediation is not sufficient for those that have health issues that can be caused or aggravated by bio contamination. A more thorough investigation and remediation is required for those that are sensitized. At BioClean, we are focused on the toxins, microbes, and compounds that are created in a water damaged building and are known to cause health problems in people and pets. We have developed procedures and equipment that will eliminate and neutralize more environmental toxins then any other process…and we can prove it!
Specialized Cleaning for The Sensitized Individual
In most cases, particles and contamination in a structure will settle to surfaces and contents. Reducing the bio-load from all surfaces and contents is a very important step for a sensitized individual. It can be difficult if not impossible for homeowners to move and properly clean everything in their home. If you are already experiencing any health issues that can be related to environmental particles and toxins, you should not be the one doing the intense cleaning.
At BioClean, we have the knowledge, equipment, and experience to create a clean and healthy living space so those that are sensitized have a safe place to heal.
After performing all remediation steps, we remove all or most of the contents from the rooms to prepare for our multi-step Specialized Cleaning Process to professionally clean and decontaminate
Air Ducts, Air Handler
Ceilings, Walls, Floors
Carpet, Rugs, Upholstered furniture, Mattresses
Appliances
Furniture and other room contents
Post remediation testing of contents, surfaces, and air to verify decontamination
Utilizing one of the most stringent post remediation testing protocols in the industry
Clo2 Gas Fumigation Process –
Offered Exclusively at BioClean
After removal of water or mold damaged building materials, and specialized cleaning has taken place, we deploy our secret weapon against biological contamination and mold. Chlorine dioxide gas is generated onsite and is used to fill all spaces of the building. The Clo2 sterilizing gas will reach and decontaminate the areas in a home that are humanly impossible to physically access and clean using standard methods. Many times, the Clo2 gas fumigation step alone has cleared up the toxin and allergen problem in our clients' homes. Over the past 10 years this has been verified by post remediation testing, and most importantly, the reports from our clients stating their improved health conditions after our fumigation process.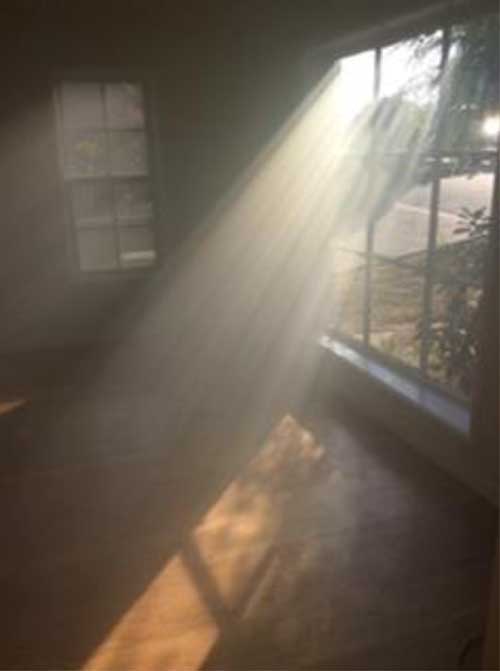 If you have a chronic health issue or compromised immune system, it's likely your environment could be contributing to your declining health. Our system was designed specifically to neutralize indoor environmental toxins that affect the health of the occupants.
Whole home and contents decontamination.
WE DO NOT USE POISONS to destroy and neutralize organisms. We use a self-neutralizing Clo2 oxidizing gas to physically destroy, or oxidize micro-organisms, leaving no chemical residuals behind.
Clo2 gas is almost as small as an oxygen molecule and will penetrate furniture, clothing, air ducts, attics, insulation, and is highly effective in crawlspaces. It reaches and decontaminates impossible to clean areas with ease because of its small size and efficacy.
The highest level of disinfection - 99.9999% reduction of all microbes it contacts. Clo2 gas is used in the medical industry for sterilization of re-usable medical equipment.
Eliminates the need for disposal of most personal contents and furniture.
HVAC / air duct decontamination. There is no better way to decontaminate your air handler and air ducts then with Clo2 oxidizing gas.
Attic and insultation decontamination.
Crawlspace decontamination.
Inside wall cavity decontamination – may eliminate the need for tear out and reconstruction of sheetrock and cabinets.
Cars and vehicles can be disinfected and deodorized.
Clothing and fabric disinfection and deodorization.
Eliminate Allergens such as Dust Mites, Pollen, Rodent & Insect contamination
Eliminates Volatile Organic Compounds, and formaldehyde off gassing.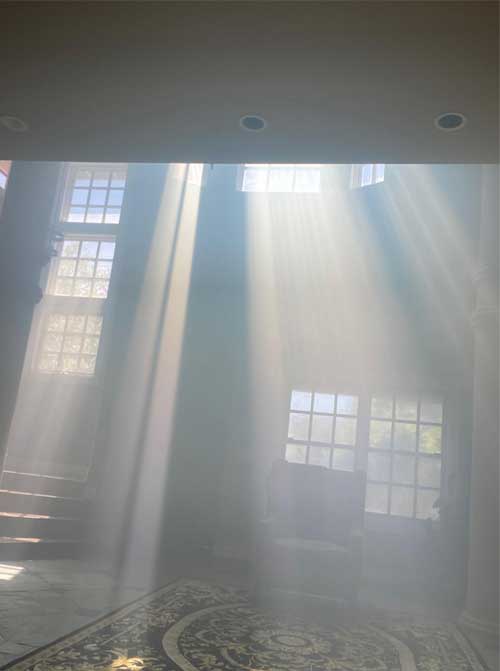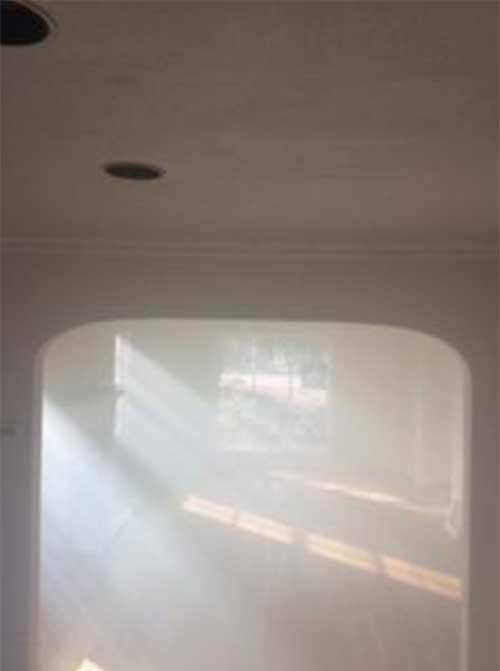 Scientific Reports:
EPA evaluation of the effects of Clo2 on Mold, Mycotoxins, and Allergens:
EPA, "This research has demonstrated the potential of ClO2 gas to achieve a large percentage reduction in viable spore counts on all materials as well as a large percentage reduction of 91% to 99.99% of the concentration of allergens and mycotoxins. Observations of fumigation of actual buildings with heavy mold contamination are consistent with these results".
Report findings are on pages 30, 31, 32. https://cfpub.epa.gov/si/si_public_file_download.cfm?p_download_id=516320
The power of clo2 against spores –
Mold needs 3 things to become a problem: water, food, and seeds or spores. Water can be from a leak from a sink, shower, bathtub, washer, broken pipe, or roof leak. It is also common to find that mold grows inside of a structure just because the indoor humidity is too high fueling the mold with a sufficient water source. Your home and furnishing are the food. If you eliminate one of the 3 things mold needs to grow, your mold problems can be controlled. The following studies shows that Clo2 gas killed 100% of mold spores. They cannot ever reproduce or colonize and, as previously mentioned, the mycotoxin that could be on the spore is neutralized. No other process available to the public can make these claims. https://cfpub.epa.gov/si/si_public_file_download.cfm?p_download_id=516320
Page 31, #4.
The following report shows that Clo2 gas is used for the sterilization of medical equipment. Bio Indicators are used in this process for the purpose of validating the Clo2 sterilization cycle. Each BI consist of the one million of the most difficult spores to kill as verification of a complete kill or a successful sterilization cycle. We regularly verify our sensitive remediation projects with this technology. https://www.infectioncontroltoday.com/view/exposure-times-necessary-decontamination-gassing-chlorine-dioxide
Anthrax decontamination – Anthrax is a spore produced by the Bacillus anthracis bacteria. The reason for mentioning anthrax here is not that you will ever encounter anthrax, but that it creates a spore that is known to be one of the hardest spores to kill because of its physical structure or "hard shell". Clo2 gas fumigation, the BioClean process, was used by the United States government to decontaminate the federal buildings in Washington DC. in 2001 when anthrax was sent there as a terrorist attempt. Our government could have used anything and decided on Clo2 gas fumigation for the best decontamination method due to its efficacy and safety profile. The article below is a reference to the Clo2 process used to neutralize the anthrax spore. https://pubmed.ncbi.nlm.nih.gov/20305025/
Clo2 vs. Allergens & Bacteria
Water damaged buildings, mold, animals, rodents, insects, and pollenating vegetation will produce proteins and bacteria that has the potential to cause an allergic or parthenogenic rection to many people. These proteins cause many different reactions in the human body. The most prevalent are inflammation, asthma, respiratory difficulties, sore throat, eye irritation, excessive mucus production, hives, headache, brain fog, and rash.  Clo2 has the power to easily oxidize and destroy these proteins and bacteria to the point that you will see instant relief after treatment. The small size of the Clo2 gas particle will reach the most hidden places in a furnished building, rendering these proteins inactive and not able to cause a reaction.
Proteins Oxidized by Clo2 Gas: https://www.unboundmedicine.com/medline/citation/17397139/Denaturation_of_protein_by_chlorine_dioxide:_oxidative_modification_of_tryptophan_and_tyrosine_residues_
Clo2 vs Endotoxin
In a building with water damage, bacteria is usually present, and is more abundant than mold at first. Some bacteria can release an endotoxin. Endotoxins have been heavily studied and are known to negatively affect human and animal health and cause serious inflammation in living tissue. Endotoxins, also known as pyrogens, are the part of a gram-negative bacteria cell wall that cause inflammation and health problems to people and pets. Clo2 gas is highly effective at oxidizing these unseen health hazards. https://www.frontiersin.org/10.3389/conf.FBIOE.2016.01.01078/2893/10th_World_Biomaterials_Congress/all_events/event_abstract